INSANE.
IN-SANE.
That's how I feel one week on after announcing that my fantasy trilogy is going to be published. It feels insane. I feel insane. Years of dreaming that this would be my career – my life – and, in all honesty, always having an undercurrent of doubt flowing within me, I never thought this would actually happen. I'm sure you could ask most authors (published or aspiring) about this and they will tell you the same thing: they didn't believe it would actually ever happen.
When I first started pursuing this dream, my parents were (and still are) completely supportive. In fact, they seemed even more excited by the prospect than I did. Still, they didn't understand the realities of trying to get published. I see it every day. I talk to authors at work on a weekly basis and every one of them has a story of struggle. For some it took over a decade to get published. I was well and truly aware of the realities of getting published.
My parents, however, were not.
Time and time again I had to remind my dad that it was no easy path. Once I told him it could take me ten years (or more!) to get published and his whole eager and giddy demeanor deflated, like so: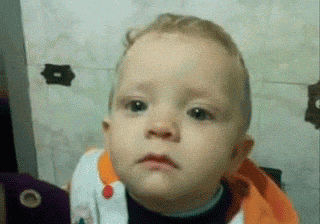 Sorry dad! Those are the facts.
In saying that, there are stories of hope. I was listening to a bookish podcast once called Writing Excuses (hosted by Dan Wells, Brandon Sanderson, Mary Robinette Kowal and Howard Tayler – it's great, get on it) and during one particular episode they had a guest author whose name I've forgotten (derp). This author was talking about the dozens upon dozens of rejections she received before finally getting published. Her debut novel was due to be released later that year. I will never forget this line she said…
"I got dozens of rejections but I've turned those rejections into a quilt and now they keep me warm at night."
LOVE. IT.
I think the key message here is: don't give up.
I know people say that and you roll your eyes and go yeah, yeah… but I'm serious. There will always be some road-block, some excuse, some fear, some doubt… you have to overcome them all because this is not an easy industry to crack into or to remain a part of.
To all the aspiring authors out there… you got this.
~ Bronwyn xo